I can't believe that they're falling for it!
This article appears to be a "joke article", meaning that it has no point of being taken seriously.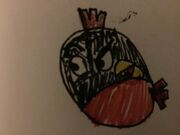 Sprite Cranberry Bomb is a version of Bomb that is relaxed and can't explode. His power is to throw big Sprite Cranberry cans at the pigs.
Appearance
Sprite Cranberry Bomb is a black bird with a red belly, which is his coat. His fuse, seen on the original Bomb, is replaced with some spiky hair. There is also a small tail identical to his hair.
Trivia
Sprite Cranberry Bomb's favourite season is Winter.
His catchphrase is "Wanna Sprite Cranberry?"
Backstory
Long ago, a small black bird came across some cranberry juice on the ground in a cup. He drank it and immediately fell in love. He advertised it to the other birds on the island until he became known as the Cranberry Guy. He also liked Sprite, and when the two formed into Sprite Cranberry, that was it. He needed it. He fought his way across Bird Island to get a Sprite Cranberry, that involving illegal acts. This black bird got himself arrested for a drink.