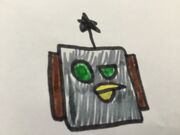 RoBird is a Robot Bird that helps the birds when pigs are coming. His creator is currently unknown (nobody has ever found any evidence about his creation, but Bomb has a gut feeling that he was created by a person that was not a bird nor pig). Lots of people respect him because of his many useful features.
Appearance
Edit
RoBird's body is in the shape of a box. This box is grey with brown sides. He has green glowing eyes and a robotic beak. He has an antenna that has a star-shaped tip.
He can charge up power and smash through structures. Sparks fly off of him, damaging others.
He can shoot small lasers from his antenna. He uses this to stop invaders of Feathinia.
He flaps up his brown sides to reveal a jetpack. This is how he flies. However, it can run out of fuel very quickly.
He can switch his body to a spiky one and spin around. This is useful for taking out several pigs.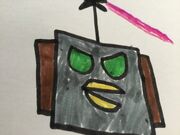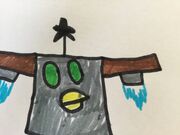 RoBird was going to be sold for £800, but he refused.
Community content is available under
CC-BY-SA
unless otherwise noted.