Seriously? That's IT?!
Uh oh, this article is a stub. It would be a pleasure if you could help out by editing this page.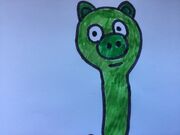 Long Pig is one of the many inhabitants of The Error Hole. He has a long body, which doesn't give him an advantage. This means the pigs don't often use him to defeat the flock.
Appearance
Long Pig doesn't have a circular body. Instead, he has a stick at the bottom of him. This makes him taller than most birds. Everything else about him is rather normal, making Long Pig an uninteresting pig.
Powers
Long Pig can be used as a stick to do critical damage.
Trivia
Long Pig is disliked among most of the pig population.
Scientist Piggies are still working out how Long Pig's digestive system works. However, this is fine because you don't need to be fed in The Error Hole.
Long Pig is allergic to Magic Bird.