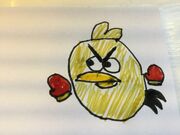 The Brawler Bird is a long lost cousin of Red, a bird that originally fell into the pigs' trap. He eventually became good at fighting while being locked in a piggy jail, and fought his way out.
Appearance
Brawler Bird looks just like Red, but with some tweaks. His feathers are gold and his tail is more ruffled. He also carries a pair of boxing gloves around.
Trivia
Brawler Bird has only ever seen Chuck, when he suddenly fell downin front of the triangular bird but was soon gone in a flash.