Not to be confused with Bomb or the Star Wars weapon under the same name.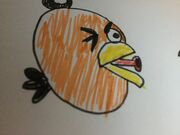 Booma is an orange bird who stars in his own game, Angry Birds Boom!. He has the unique power of his blaster that can do many things.
Appearance
Booma is a circular orange bird. He has a puffy black tail and stylish hair on top of his head. One of his eyes are bruised from an accident, sometimes making him hard to aim. He has a large beak that contains his blaster, his signature power. Because of this, Booma doesn't really have a tongue.
Powers
In Angry Birds Boom, Booma can use his blaster to blast away the piggies. He can also shoot in different ways by unlocking Power Stickers. These can sometimes have an impact on his aim, strength and speed. However, Booma is still a good bird.
Trivia
Despite the name, Booma has no possibility of exploding.