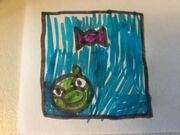 Bad Piggies: Sugar Showdown is a match-3 game made by Rovio and will release in February 2019. It involves the piggies chasing down the birds for their sweets (candy).
Level types
Edit
There are a few types of levels. They are:
Score Levels - get a certain score.
Egg Fall - get eggs to the bottom of the stage.
Bomb Revenge - Bomb shoots bombs on the stage. Get them to the bottom until they explode. The bombs take 4 turns to explode.
Poison Candies - Don't match a type of candy.
Lasers - Move mirrors and break stone blocks to get a laser to a certain area.
Types Of Candy
Edit
There are striped candies, made by 4 candies in a line. They destroy all candies in a horizontal/vertical line in a 3 block radius.
There are Candy Eggs, made by putting 4 of the same candies next to each other in a 2x2 formation. They hatch a hatchling that explodes.
This game is heavily inspired by Candy Crush.
Community content is available under
CC-BY-SA
unless otherwise noted.