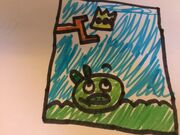 Bad Piggies: Cardboard Quest is a game about the Pigs going through a land where everything is made from wool, cardboard, paper or other stuff that can be recycled. It's an idea similar to Yoshi's Woolly World/Yoshi's Crafted World, made by Nintendo.
The birds decide to get revenge on the pigs by stealing King Pig's crown! When the piggies get involved, they chase down the birds for revenge. Just before getting it back, they see some sort of robot made from cardboard jump in and take it. The tables had turned; they were now on a quest to the Crafted Land!
There are 4 worlds, all having 6 levels. Each world has a different theme, in addition.
World 1: Meadows 1-1: Tree Stroll.
1-2: Mountain Walk.
1-3: Cardboard Cave.
1-4: Bottle Castle (Mini Boss).
1-5: Plaster Passage.
1-6: Windmill Hills.
1-7: Solar Village.
1-8: Cage Of Rage (Boss).
World 2: Desert
2-1: Cactus Fields.
2-2: Underground Tunnel.
2-3: Fiery Road.
2-4: Temple Brawl (Mini Boss).
2-5: Pyramid Maze.
2-6: Beaming Stroll.
2-7: Melting Mountain.
2-8: The Elite Heat (Boss).
World 3: Arctic
3-1: Icy Environment.
3-2: Chilly Corner.
3-3: Pale Climb.
3-4: Bridge To Fridge (Mini Boss).
3-5: Freezing Area.
3-6: Icicle Forest.
3-7: Frostbite Light.
3-8: The Cold Scold (Boss).
World 4: Lava
4-1: Burning Pits.
4-2: Fiery Cave.
4-3: Magma Nightmare.
4-4: Unlock The Rock (Mini Boss).
4-5: Amber Cavern.
4-6: Extreme Escape.
4-7: Coal Climb.
4-8: Final Showdown (Final Boss).
World 5: Combination Of Lots Of Themes (Bonus World!)
5-1: Gravity Funhouse.
5-2: Tube Traverse.
5-3: Pumpkin Path.
5-4: Tsunami Problem (Mini-Boss).
5-5: Endless Forest.
5-6: Neon Passage.
5-7: Asteroid Adventure.
5-8: The Rainbow (Boss).
Golden Eggs
Edit
In every level, there are golden eggs hidden for you to find. If you collect all the Golden Eggs in the game, you get a wool pig skin to use during levels.
Community content is available under
CC-BY-SA
unless otherwise noted.